PROFILE KNIFE GRINDING SERVICE
Specializing In Profile Knife Grinding Since 1926
Custom knife grinding has always been a specialty. By combining the latest CNC technology with time proven tool making traditions, Charles G. G. Schmidt & Co., Inc. continues to be a major supplier of knives and cutters to the woodworking Industry. We offer fast, accurate, dependable service. Just provide us with the type of knife needed, a sketch, wood sample or DXF file and let us do the rest. For standard knives, please see our list of casings, crowns, baseboards and chair rails. Over 170 standard profiles in stock for corrugated heads and the Williams & Hussey Molder. Carbide tipped and SCHure-lock carbide knives are our specialty.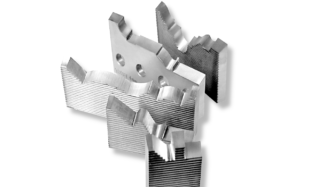 We manufacture knives for:
• Corrugated Heads
• Williams & Hussey Molders
• Powermatic, Woodmaster, Grizzly, Belsaw, RBI Planers
• Custom Knives for most Woodworking Machines
Ordering, "Easy as 1 2 3"
Complete Service – We supply completely finished knives and templates from dxf, dwg files, wood samples or drawings. 2 to 3 day delivery. Rush service available
Pre-Roughed knives & Templates -From a drawing, dxf, dwg files or wood sample, we produce pre-roughed knives and templates. Finish grinding is up to the customer. 1 to 2 day delivery.
Template Service – Supply us with your special profile and we
will send you a 3/16" thick acrylic template for your knife grinding machine. 1 to 2 day delivery.
Send us your profiles via mail, fax, or e-mail dxf
or dwg files to [email protected]